Phosphorus Recovery by Glatt PHOS4green
Waste-free phosphorus recovery from sewage sludge ashes for high-performance fertilizers that comply with the German Fertilizer Ordinance (DüMV) / Regulation EG No. 2019/1009
The Sewage Sludge Ordinance has triggered major changes throughout Germany: Phosphorus recovery is mandatory by law and' application of the sludge directly to the soil is no longer permitted. Accordingly, sewage plant operators must review their concepts for sewage sludge disposal and, if necessary, reconsider them. The challenge is to create sustainable solutions that ensure sewage sludge utilization is viable well in to the future.
Other countries have also responded to the global shortage of phosphorus with regulations, and further rules will follow. With viable innovations that close the phosphorus material cycle, Germany can take on a pioneering role in this critical initiative.
With PHOS4green, we have developed an innovative patent-protected process to recover the essential nutrient phosphorus from sewage sludge ashes and use it for new phosphate or compound fertilizers.
Benefit from PHOS4green:
Produce ready-to-use fertilizers from phosphorus recovery from local resources!
Use our PHOS4green process to close the nutrient cycle!
Fulfill the legal obligation to recycle phosphorus economically from sewage sludge!
     
Sustainable
by
Circular
Value Creation.


This distinguishes Glatt technology from other processes:
Copyright: Glatt
Glatt Ingenieurtechnik is exhibiting for the first time at IFAT, the world's leading trade fair for environmental technologies in Munich. The company will showcase its patented PHOS4green technology to recover phosphorus from sewage sludge ash and convert it directly into ready-to-use phosphate or compound fertilizers. On booth A4.509, visitors will be able to learn more about this innovative approach that's already being successfully used at an industrial scale.
https://phos4green.glatt.com/wp-content/uploads/2022/05/Glatt@IFAT2022_600x400_220505.jpg
315
473
Mona Berger
https://phos4green.glatt.com/wp-content/uploads/2021/11/glatt-logo-web-160.png
Mona Berger
2022-05-05 08:50:25
2022-05-05 09:44:59
Glatt PHOS4green at the IFAT 2022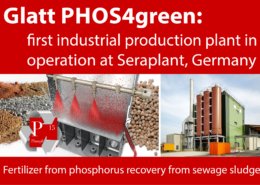 Copyright: Glatt
Production starts at first German PHOS4green plant for recycled fertilizers. Residue-free production of ready-to-use fertilizer from phosphate-containing sewage sludge ash is now possible, thanks to plant manufacturer and process expert Glatt Ingenieurtechnik, and fertilizer specialist Seraplant. The official commissioning on May 31, 2021, was attended by Prof Dr Armin Willingmann, Saxony-Anhalt's Minister for Economics, Science and Digitalization.
https://phos4green.glatt.com/wp-content/uploads/2021/06/Glatt_PHOS4green_IBN_Seraplant_600x400_210608_EN.jpg
1667
2500
Mona Berger
https://phos4green.glatt.com/wp-content/uploads/2021/11/glatt-logo-web-160.png
Mona Berger
2021-06-08 11:40:10
2021-11-23 12:40:59
Glatt PHOS4green: first production plant for fertilizer from sewage sludge in operation at Seraplant
Follow a manual added link
Title: "Das Geschäft mit dem Geschäft – Klärschlammverbrennung im Geiseltal."
of Dec. 4, 2019 (in German).  
Licensor: Telepool GmbH, Leipzig
Follow a manual added link
"The end of humanity ? Phosphorus scarcity is one of the global ecology issues like acid rain, ozone layer and climate change. It is a central building material of all life, without which we cannot exist. Therefore, it must be alarming when international experts warn that the world's reserves are running out."
(Video in German, 51:24 min)